Images on your website go way beyond serving just an aesthetic purpose – they're an integral part of your SEO strategy. Not only does optimizing your image SEO efforts improve the image's ranking, but it also boosts the overall performance of your website on Google.  
In today's article, we'll take you through a step-by-step guide for building an effective image SEO strategy. 
What Is Image Optimization for SEO, And Why Is It Important For Businesses? 
Before getting into the exact steps for image optimization, let's look at the definition of this term.
Image SEO is a process of optimizing images on your website via alt texts, file dimensions, file types, and more. Image optimization boosts your ranking on Google images and helps with website traffic in general. In addition, SEO-friendly images typically impact the overall user experience on your website. That said, optimizing the image SEO efforts in your company can really benefit your business.
Steps For Image SEO Optimization
Now that we briefly went over what image SEO is and why it matters, let's dig further into the exact steps you should take. 
Finding the right image format
Choosing the right type of image format is essential. Among multiple image formats, PNG and JPEG are the most common ones. 
Pictures in PNG are usually larger but in better quality; the format is ideal for screenshots, line drawings, pictures with text or transparent backgrounds. In other words, any picture in which minuscule details matter. 
Meanwhile, JPEG pictures are smaller and don't come in such high quality, so the format is perfect for photos. 
Another popular image format is GIF, which is designed for relatively basic images. Since GIF files allow images to be combined together, this format is often used to create simple animations. 
We also have the SVG format; since it doesn't pixelate, it's typically used for logos, icons, or simple illustrations. Just a side note, if you're using .jpg images inside an inline SVG format, keep in mind that Google cannot index such files. 
Finally, there are formats like WebP, JPEG 2000, and JPEG XR, known as next-gen image formats. According to Google PageSpeed Insights, these formats are highly recommended. Often, they deliver better comprehension, allowing you to download the image faster and reducing data consumption. 
You should also take image size into account – it's one of the most crucial factors influencing your website's speed. Site speed is a ranking factor, so the better it is, the higher the chances to appear on the first page of Google. 
As State of the Web claims, the average transfer size of a web page is 2080 KB on desktop and 1885 KB on mobile. If we compare the average transfer size of images (which is 1026 KB on desktop and 935 KB on mobile), that makes up half of the weight of a page.
Optimizing image filenames
Another important part of image SEO is giving the file a descriptive name, so it accurately represents the picture's content. You should keep image names short yet descriptive. 
The ideal length of an image name is between 8 and 16 characters or 2-3 words, which is enough for Google to read and understand the picture's content. 
For example, if you run an online shop selling various sauces, potentially, every picture could be named "sauce," "sauce1", "sauce2", etc. Here, you can go the extra mile and give the image a more specific name, i.e., "hot-chili-sauce" – this way, search engines will understand the image better. 
Using striking images
Nowadays, too many websites are using similar, generic images – usually, it's a businessman standing next to a whiteboard and pointing at numbers. Although stock photos might be easier and quicker to source, they end up making your website look like everyone else's. And, even if you have the stock images optimized, it won't have the same impact as a unique, outstanding image. That said, using original, high-quality images will not boost your website ranking but will improve the overall user experience. 
Here's what you can use instead of generic stock images:
Your own pictures taken with a phone or camera
Edited or original stock images
Custom-made illustrations 
Using ALT Texts 
ALT texts are used within an HTML code to describe the appearance and function of an image when a browser can't properly load the image. 
Let's look at a concrete example of ALT text usage on an article by Moz: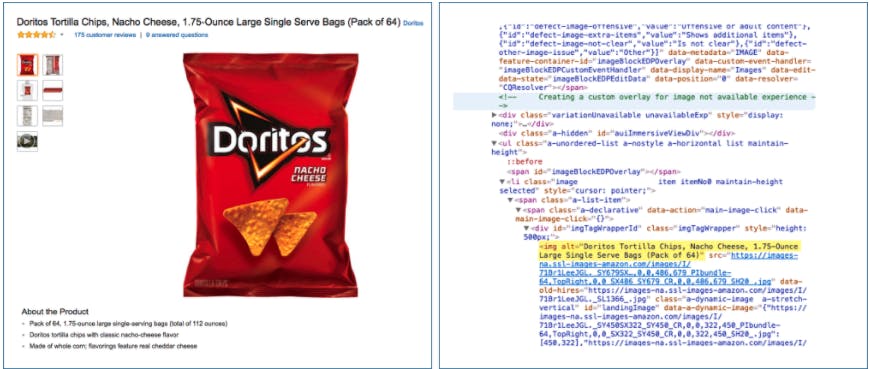 The main purpose of ALT texts (also known as tags) is to help visually impaired users understand the information presented in the picture. Similarly, ALT texts help Google bots read and understand the information, as they obviously can't view the image. That said, the best format for alt text is descriptive but isn't stuffed with keywords.  
ALT tags can also benefit your SEO strategy in general. If, for whatever reason, the image doesn't load, website visitors will get the idea of what it's supposed to look like. 
Finally, if you add appropriate ALT tags, search engines will associate relevant keywords with the images, helping your website rank higher. 
Avoid keyword stuffing
Another crucial part of image SEO is resisting to overload descriptions and filenames with keywords. This process is better known as keyword stuffing –  it refers to loading website's content with keywords or numbers to manipulate a site's ranking in Google search results.
A keyword stuffing example could be an e-shop that's trying to rank for the "best linen bedding set" term while using such a copy: "If you're looking for the best linen bedding set, you've come to the right place. Our company offers the best linen bedding set and other home supplies you can find in the market."
As you know, Google is the most frequently used search engine in the world. Ever since it became this popular, keyword stuffing has become useless or even harmful – Google now penalizes websites that use keyword stuffing or black hat SEO skills.
Creating an image sitemap 
Google Images takes up a good part of the search engine market share, SparkToro website says. Taking this fact into consideration, it would be wise to create an image sitemap apart from your regular XML sitemap. Having your images placed in a sitemap boosts the chances of search engines crawling and indexing your images, essentially bringing more traffic to your website. 
There are two ways to create a sitemap – the first one is updating your XML sitemap manually. This way works if you have a rather small website (i.e., your website consists of 10 pages), as you won't spend much time doing the manual work. 
By editing the code, you can include details like image and location tags, titles, captions, or geo-locations. In this scenario, keep in mind that you should update your sitemap every time a new image is uploaded to your website. You should also upload the image to your server then share its URL with Google Search Console.
Your second option is to automate this process. If your site is built using WordPress, you can use the All in One SEO Pack plugin. On their website, select the "Media/Attachments" option, and it will automatically generate a separate sitemap to your website. 
Conclusion 
Overlooking your image SEO tactics would be a missed opportunity to boost organic traffic and gain backlinks. As with any other SEO-related effort, image optimization takes a lot of time and meticulous work – with SEO, tiny details matter. However, putting enough effort into image SEO will definitely pay off in the long run, boosting your organic traffic and user-friendliness.